MYAS (Minnesota Youth Athletic Services), Inc. has officially announced the launch of its partnership with 4giving (http://4giving.com/), a platform that assists non-profits, organizations, associations & individuals quickly to create and inspire moments of generosity through community fundraising. 
As a statewide multi-sport organization, the MYAS has seen firsthand the toll the past 14 months have placed on youth sports associations, teams, youth athletes, and their funding opportunities. The goal of this partnership with 4giving is to provide youth athletes, teams and the associations that serve them, a FREE, NEW, and EASY way to raise and collect funds.
As part of this newly established partnership, for every dollar raised by a youth sports association, team, or youth athlete, 4giving will make a contribution to the MYAS Foundation with a goal to establish at least $500,000  each year in youth sports scholarships for current and future youth athletes that participate in MYAS programs.
"Our hope is that our partners, the parent-volunteer, youth sports associations will utilize this tremendous fundraising resource to raise more money for their local associations,  teams, and youth athletes," said MYAS Executive Director, Dawson Blanck. "We are pleased to partner with 4giving as it provides an efficient and effective solution for youth athletic associations and their participants. The ability to fundraise for youth sports, in a way that is easier and simply more fun, gives local youth athletic associations and teams 100% of the money they raise."
 "4giving is proud to partner with MYAS to help support our local associations and teams across the state of Minnesota," said Joe Sriver, CEO at 4giving. "Our mission is to foster new, immediate and impactful relationships between youth sports, the community, and sponsors, like MYAS."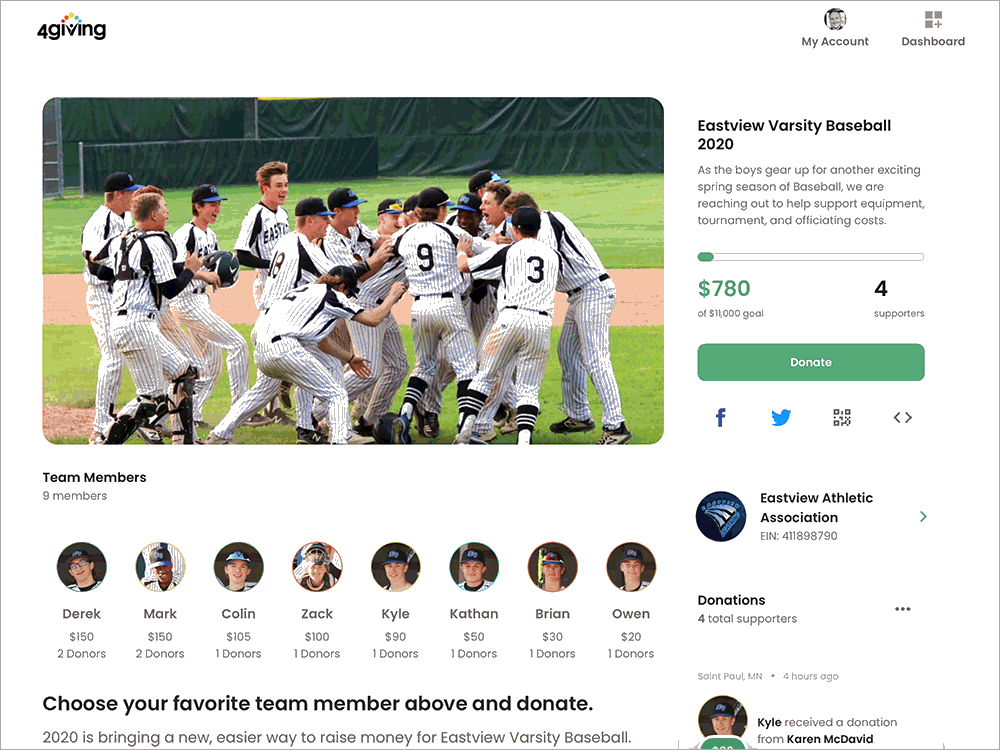 As part of the partnership, for every dollar raised by a youth sports association, team, or player, MYAS and 4giving will make a contribution to the MYAS Foundation to establish at least $500,000 each year in youth sports scholarships for future athletes.
Get started fundraising through the MYAS partnership.
About MYAS
Minnesota Youth Athletic Services, Inc. (www.myas.org) was organized in 1991 as a 501(c)(3) nonprofit organization dedicated to improving youth sports services to young athletes, coaches, parents, officials/umpires, and the parent-volunteer athletic associations that serve them.  The MYAS recognizes that participation in athletics is one of the healthiest and most cost-effective options for helping young male and female athletes make good choices about life's many decisions. This can be achieved through promoting sportsmanship, teamwork, and cultural interaction through sporting competition as well by providing the highest quality athletic programs for Minnesota's youth athletes while linking regional volunteer youth sports programs with others statewide.
In 2015, the MYAS launched "Trusted Coaches," a nationwide platform training coaches to maximize the probability that positive things will happen to young athletes. Additionally, Trusted Coaches has created a cutting-edge education program to foster compliance with the Safe Sport Authorization Act, state Concussion laws, and the fulfillment of other training and education necessary for a youth coach.  Over 450 youth sports organizations have committed to this robust risk management platform and nearly 45,000 coaches have successfully completed the required training required by their youth sports organization.  The Trusted Coaches platform provides a national criminal background check, concussion training, child safety training, first-aid training, and coach character development that fosters compliance with state and federal standards. During the 1st quarter of 2021, Trusted Coaches launched Gen 2.0 of its platform, a new training, and the implementation of a new partnership that will provide a suite of courses as well as tools and resources for youth sports organizations.   More information about this platform can be found at www.trustedcoaches.org
About 4Giving
4giving makes philanthropy easy, fun, and inspiring by providing a free, intuitive, self-serve fundraising platform. We strongly believe in goodness and giving by raising awareness and encouraging donations for a cause. Collect, Fundraise, and Event organize with 4giving while eliminating donor friction points and building longtime recurring connections with supporters.